Candied Pretzels
Snappy pretzels baked in butter and chocolate sugar and then drizzled with chocolate, these candied pretzels are an irresistibly easy snack.
You know that rush of a new crush? When you start spending time with someone you're enchanted by and suffer an all-consuming infatuation? It just slaps you right in the face and suddenly you're head over heels and this new person is all you can think or dream about.
It's the stuff of textbook infatuation, and most people feel that way about crushes or boyfriends or even characters in books (hello, Jon Snow).
I feel that way about these pretzels.
I fell hard, into an obsessive, clingy, and maybe unhealthy kind of love with these pretzels. If they had a Facebook account I would undoubtedly find myself stalking through their old pictures, enviously burning over photos of their old paramours. Thank goodness pretzels can't file restraining orders because I really ought to be hit with one.
Wait, before you judge me, you really have to try them for yourself.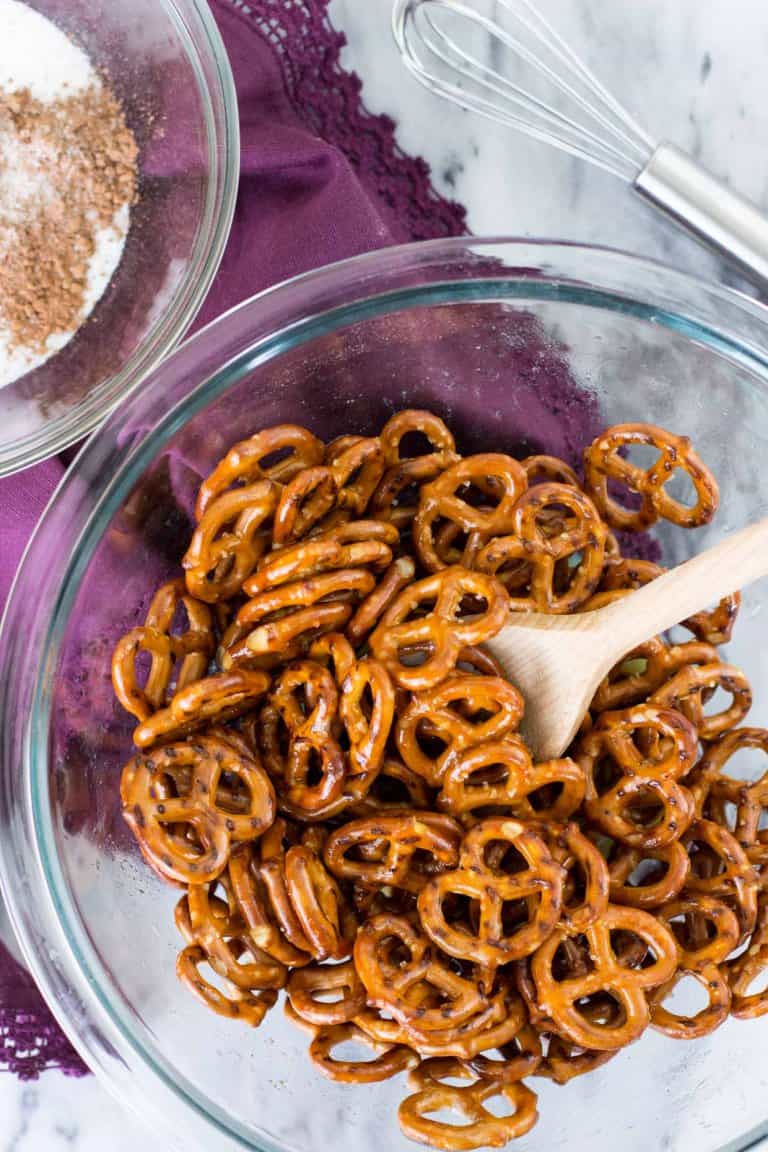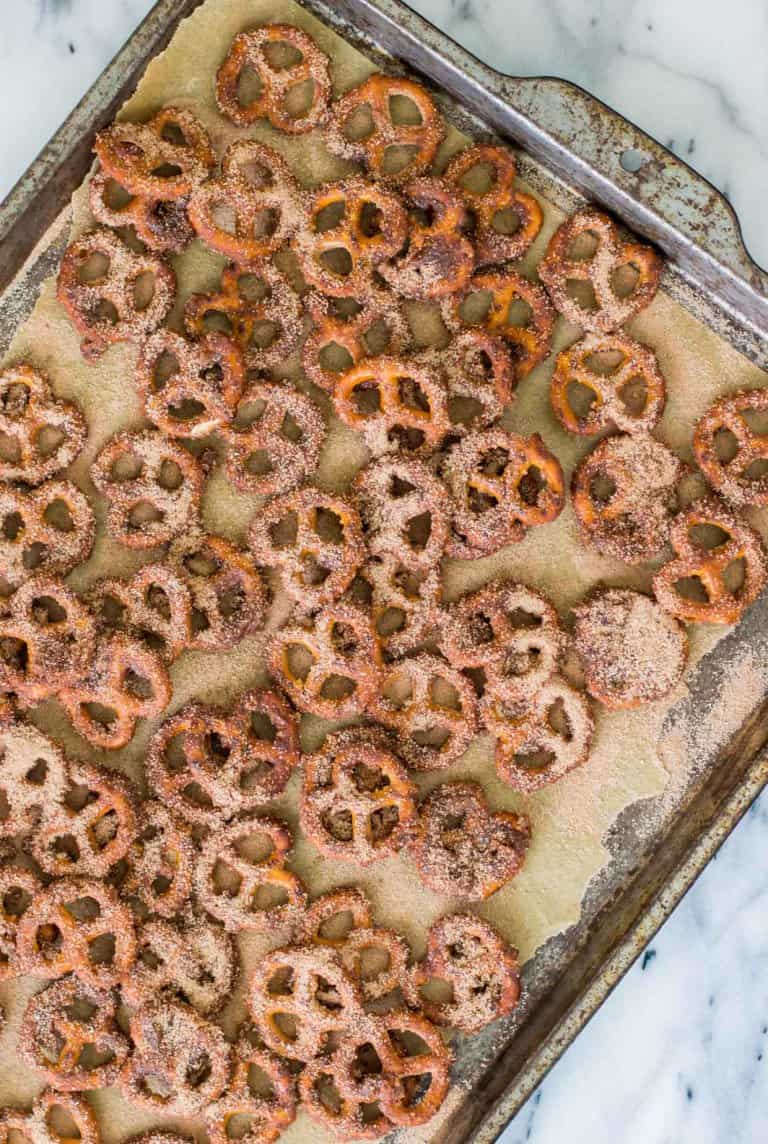 I mean, they seem so simple, right!?
And they are – 5 minutes to prep and 15 minutes to bake. Let's slap another 5 minutes on there for drizzling their slashy chocolate dresses over top, if you want to be technical.
But despite their simplicity (or maybe even because of it), they're addictive, crunchy and crisp (as pretzels ought to be), but salty and sweet with candied exteriors. Have you made my candy pecans yet? As amazing as candied nuts are and as much as I love those easy treats, candied pretzels are even better.
The chocolate sugar for these pretzels comes from the coating I used on these cookie dough stuffed donut holes. I'd been searching for a way to use this addictively sweet seasoning in a different recipe, and it worked perfectly here.
Even though the pretzels are already a little salty by themselves, I added a sprinkling of sea salt to the mixture as well. Sea salt has a distinct flavor that you don't really get from pretzels, and with all the sweetness we're adding it's easy to dwarf the saltiness factor, so we add more.
Considering how addictive these pretzels are, you're probably going to want to double the batch. I kept the recipe fairly small because 3 cups fits nicely into a large bowl for tossing with butter and sugar without making a mess all over the place, and also fits neatly onto a standard cookie sheet (you don't want the pretzels to overlap too much, or they won't bake evenly). But, as soon as you get the first batch in the oven, you're going to want to start your second.
I've made these pretzels probably a dozen times so far. I bring them into work because I'm eating far too many at home, and then secretly pilfer away at the ones I've left in the break room. It's a problem, and I suspect you'll understand once you give this recipe a try.
Enjoy!
Candied Pretzels
Print Pin
Rate
Ingredients
3

cups

small twisted pretzels

heaping (about 225g)

4

Tablespoons

unsalted butter

(57g)

1/2

teaspoon

vanilla extract

1/2

cup

sugar

(100g)

2

teaspoons

cocoa powder

1/8

teaspoon

cinnamon

1/4

teaspoon

flaky sea salt

1

cup

dark chocolate melting wafers **

(140g) or semisweet chocolate chips, but if you use chocolate chips it will take longer for the chocolate to re-harden and it is apt to melt in your hands.
Instructions
Preheat oven to 350F (177C) and line a cookie sheet with parchment paper. Set aside.

Melt your butter in a large, microwave-safe bowl.

Stir in vanilla extract.

Add pretzels and stir until all pretzels are coated with butter.

In a separate bowl, whisk together sugar, cocoa powder, cinnamon and salt.

Reserve 2 Tablespoons of your sugar mixture and set aside. Toss the remaining sugar mixture over the pretzels, using a spatula to turn the pretzels until all are coated with sugar mixture and butter is absorbed.

Pour contents of bowl onto prepared sheet and spread pretzels in an even layer. Evenly sprinkle reserved 2 Tbsp of sugar mixture over the pretzelsr.

Bake on 350F (177C) for 5 minutes. Remove from oven and reduce oven temperature to 300F (150C). Turn/flip pretzels with a spatula so that they do not burn, and return to oven.

Bake for 5 minutes, remove from oven, stir pretzels once more and bake for another 5 minutes (on 300F/150C).

Remove from heat and allow to cool at least 15 minutes before drizzling with chocolate.
Tried this recipe?
Mention @SugarSpun_Sam or tag #sugarspunrun!
You Might Also Like:
Candied Pecans
Cookie Dough Stuffed Pretzel Bites